Sifu Lamar M. Davis II - A Brief Biography
Sifu Lamar M. Davis II was born on the 8th day of August in the year 1957 in Newnan, Georgia. Shortly after this his family moved to Alabama, where he grew up. He started training in martial arts at the age of ten. His first training was in shotokan karate and kodokan judo. It was Bruce Lee playing the part of Kato on the Green Hornet TV series that first got him interested in the martial arts. He started buying martial arts magazines whenever he could get his hands on them. Thanks to this early interest in magazines, he was able to acquire all of the early issues of Black Belt magazine with articles on or by Bruce Lee. This includes the issue that the famous article "Liberate Yourself From Classical Karate" originally appeared in!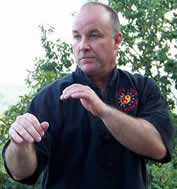 When the episode of Longstreet titled "The Way of the Intercepting Fist" premiered, he was sitting in front of the TV set with eager anticipation! It was incredible! Bruce Lee basically played himself and explained Jeet Kune Do right there on the show! It was a sleepless night for him after watching that show! He knew that whatever it took, he would one day become an instructor of this incredible art of Jeet Kune Do!
By the time he was fifteen years old, he was training in Northern Shaolin Gung Fu, Ed Parker's Kenpo, Tae Kwon Do and Tang Soo Do all at the same time! He achieved instructor's degrees in all of these arts! Since he couldn't yet study Jeet Kune Do, he would learn everything he could about whatever was available. At least he would be developing some of the attributes necessary for Jeet Kune Do!
In the late 70's Lamar met a man named Robert S. Brabante. Robert was an instructor of three different martial arts. Lamar started training with him, eventually earning instructor's degrees in Shin Pao Chuan Gung Fu, Filipino Escrima and Filipino Kuntao. All the while Robert knew of Lamar's interest in Jeet Kune Do and Bruce Lee. He told Lamar about an old friend of his, Sifu Joseph I. Cowles, who had trained with Bruce Lee at the Jun Fan Gung Fu Insitute in Seattle, Washington. He suggested that they invite him for a seminar. Finally, a door to training in Bruce Lee's fighting method was about to open!
Sifu Joseph I. Cowles came to Birmingham and taught a two day seminar. He was so impressed with Lamar that he spent most of his time the first day working one-on-one with him. He even went home with Lamar that evening for dinner and more training! The next day he put his assistant instructor in charge of the class, which was self defense for women, and spent the whole day working privately with Lamar! On that day he allowed Lamar to make a videotape of him demonstrating all of the Jun Fan Gung Fu techniques. He also taught Lamar the Sil Lim Tao form, just as he had learned it from Bruce Lee.
After Sifu Cowles left to go home, Lamar spent many hours each day diligently studying the video and working on the techniques until he had learned them all. He could execute them all with speed, power and good form. He was determined to become ranked as an instructor under Sifu Cowles.
In 1980 Lamar sponsored a seminar in Birmingham for Sifu Dan Inosanto and Sifu Richard Bustillo. He was able to talk to them about their experiences with Bruce Lee and learn more about Bruce Lee's training methods.
Later that year Lamar brought Sifu Joseph I. Cowles back to Birmingham for another seminar. This seminar was awesome. Pure Jun Fan Gung Fu! Sifu Cowles surprised Lamar by asking him to assist him with teaching the seminar, and later informed him that he could now consider himself an instructor. Lamar was ecstatic! Lamar has great respect for him and considers him his first Sifu in Bruce Lee's fighting methods.
Lamar was aware of the fact that there were many other people out there who had trained personally with Bruce Lee. He made it his personal goal to seek out as many of them as possible to train with them and find out what their unique qualities were. He knew that to get a full picture of Bruce Lee's method, he would have to find students from all three periods of Bruce Lee's development (Seattle, Oakland and L.A. Chinatown). He had already experienced some training with Dan Inosanto and Richard Bustillo, who were both from the L.A. Chinatown period. Through this training, he was made aware of what was later to be known as the "JKD concepts" approach to training in Bruce Lee's art.
Over the next fourteen years (1984 - 1998) Lamar went on to train and spend time with such first generation students as Patrick Strong, Jesse Glover, Ed Hart, Leo Fong, Howard Williams, Jerry Poteet, Steve Golden, Ted Wong, Joe Lewis, and with Taky Kimura and Roy Hollingsworth while visiting the Jun Fan Gung Fu Institute in Seattle. These experiences were invaluable to him, and helped him to put together many more pieces of the puzzle.
In 1990, Lamar flew to Los Angeles, California to meet with Sifu Ted Wong and one of his senior students, Zee Lo, to discuss the forming of an organization dedicated to the original teachings of Bruce Lee. In early 1991, Lamar flew in for a second meeting, which consisted of many recognized names in the world of martial arts. It was determined that there would be two separate organizations. Lamar would be in charge of one of them, the United States Jeet Kune Do Alliance, and Zee Lo would be in charge of the other one.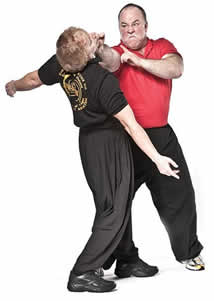 Even though there have been some changes, Sifu Davis has kept his organization going! It was about this time that prominent JKD instructor Sifu Ted Lucay Lucay called and congratulated Sifu Davis for hanging in there and keeping things going! He said, "I admire you, my friend! You are actually doing what many before you have tried to do and failed! I am a strong believer in your cause! Not only are you staying in the kitchen when the heat is on … you are turning up the heat! If I can be of assistance to you in any way please do not hesitate to call on me. Hang in there! Good things will come your way!" Sifu Davis hosted a seminar for Sifu Ted Lucay Lucay shortly after that and they remained good friends right up until the time of Sifu Lucay's untimely death!
In 1991 Sifu Lamar M. Davis II was inducted into the World Martial Arts Hall of Fame as the Jeet Kune Do Instructor of the Year. This came as a surprise, as he was not expecting it at all! He attended the ceremony, which was held in Akron, Ohio, where he met Sensei George Dillman and Sensei Wally Jay, who were both close friends of Bruce Lee. Sifu Davis was inducted again in 1995 with the Master Instructor Award, which is one of the highest awards given! Almost unheard of for someone under forty years of age at the time!
In 1989, Sifu Davis wrote his first article for a martial arts magazine. The article was on Bruce Lee's trapping hand techniques and it appeared in Black Belt magazine. He has had over one hundred articles published since then and has appeared in Bruce Lee magazine, Inside Kung Fu, Inside Karate, Wushu Kung Fu, M.A. Training, Karate/Kung Fu Illustrated, Irish Fighter, COMBAT, Karate International, Worldwide Martial Arts News, Jun Fan Journal, Kicksider, Fighter, Martial Arts Illustrated, Wing Chun Today, Martial Arts Legends and several other magazines. He has several other articles already written and is always working on more! He has his own article in every issue of Wing Chun Illustrated magazine and Combat Network, which is an online magazine. His first book, Jeet Kune Do Scientific Streetfighting, was published in 2000 and is now out of print! He has written four more books with plans for publication in 2012.
In 1993, Sifu Davis started working on a series of instructional videotapes, which he decided to call Original Jeet Kune Do Complete. The goal was to make the most in-depth series of instructional videotapes ever done on Bruce Lee's fighting method! The series consists of twenty volumes! The shortest tape in the series is one hour long. Most of the tapes are pushing the two-hour mark! Sifu Davis accomplished his goal! His series is by far the most in-depth ever! To stay with the changing times, the series has been transferred over to DVD, and the VHS tapes are no longer available.
As he was working on the complete series, he also started working on the seminar series. This consists of footage from various seminars taught by Sifu Davis. There are twenty-two DVDs in this series at the time of this writing with possibly more to come! There are also a few other DVDs that are not a part of any series.
Sil Lim Tao is the first form taught in the Wing Chun Gung Fu system. It was a very important part of the Jun Fan Gung Fu curriculum. Sifu Davis, seeing the importance of the Sil Lim Tao to the Jun Fan Gung Fu and Jeet Kune Do structure, decided to do a series of DVDs on the Sil Lim Tao form. There are four in-depth volumes on the form, and they should be a part of every Jeet Kune Do practitioners DVD library!
There are several other series of instructional DVDs planned for the future! In early 2012 production will begin on the Hardcore Jeet Kune Do series, which is scheduled to be a ten volume set focusing on the most important aspects of the Hardcore Jeet Kune Do curriculum. This will be the MUST HAVE set for anyone interested in Jeet Kune Do!
In 1996 the United States Jeet Kune Do Alliance became Jeet Kune Do International and the Jeet Kune Do Trapping Association. This was due to a growing interest in the organization and a need to expand so that those from foreign countries could feel more a part of things. Until they ceased to exist in 2003, Sifu Davis was the Executive Director and Senior Instructor of both of these organizations.
By joining the organization that was known as Jun Fan Jeet Kune Do (also sometimes referred to as the "Nucleus") and attending their events, Lamar was able to meet and train with original Bruce Lee students, Bob Bremer, Pete Jacobs, Daniel Lee, Herb Jackson, Allen Joe, George Lee, David William Cox and second generation students Tim Tackett, Chris Kent, Andrew Kimura and Greglon Lee. At one of these events, Sifu Davis received a certificate stating that he was recognized as a Full Instructor in Jeet Kune Do, and is highly recommended as an instructor for those who wish to train and be ranked in Bruce Lee's fighting methods.
As a result of his training with approximately twenty of Bruce Lee's original students, Sifu Davis has learned the entire curriculums from the Seattle, Oakland and L.A. Chinatown branches of the Jun Fan Gung Fu Institute. Sifu Davis now shares his extensive knowledge with others through his organizations, seminars, instructional DVDs and magazine articles. He also offers private instruction, semi-private instruction, group instruction, seminars and training camps.
In 1999, Sifu Davis started working on an idea for an Instructor Trainee/Instructor only organization. This organization became the Jun Fan Fighting Arts Association. Officially kicked off in 2000, the Year of the Dragon, the organization's logo states "In The Shadow of The Dragon". This is symbolic of the fact that Bruce Lee was born in the Year of the Dragon and was known to the world as "The Little Dragon". The idea behind this is that if Bruce Lee didn't do it, we don't do it either!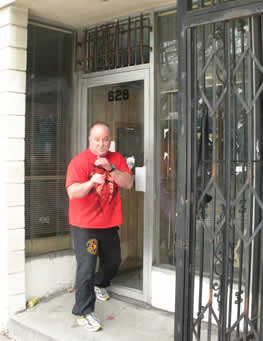 Today Sifu Lamar M. Davis II is the most highly ranked Instructor of Bruce Lee's fighting methods in the entire world! He is certified as a Full Instructor of Jun Fan Gung Fu and Jeet Kune Do by FIVE of Bruce Lee's original students!
Here is a list of those who have certified him and the period that they trained with Bruce Lee:
Sifu Joseph I. Cowles - Seattle Period
Sifu Patrick Strong – Seattle Period
Sifu Leo T. Fong – Oakland Period
Sifu Jerry Poteet - L. A. Chinatown Period
Sifu Steve Golden - L. A. Chinatown Period
Due to an unfortunate series of legal matters involving the Bruce Lee Estate, in 2003, as a pre-emptive legal move, Sifu Davis changed the name of his organization for one last time. It is now called the Hardcore Jeet Kune Do Chinese Gung Fu Association, and is open to all (both students and Instructors) who are seriously interested in learning Hardcore Jeet Kune Do. This organization consists of a highly dedicated group of practitioners that are dedicated to the goal of preserving Bruce Lee's original teaching, training and fighting methods.
In 2004, Sifu Lamar M. Davis II was inducted into the Universal Martial Arts Hall of Fame with the Jeet Kune Do Sifu of The Year Award. This was quite an honor! Sifu Davis was unable to attend the induction ceremony due to a previous commitments, so his very close friend Master Richard Ryan, Founder of the Dynamic Combat Method, accepted the award for him.
In 2009, Sifu Davis started DragonBlast, which is his brand name for unique pieces of training equipment geared for Jeet Kune Do and Wing Chun Gung Fu practitioners. The trademark item for DragonBlast is Sifu Davis' springarm, which is an incredible training device for developing sensitivity in the hands, wrists and forearms. He has also developed a unique forearm/wrist strengthening device, which is fantastic for developing powerful forearms! For full information and product details, please visit http://www.DragonBlastMA.com .
In early 2010 Black Belt magazine asked Sifu Davis to come to Los Angeles for a photo shoot. This was for four articles that he had submitted for publication. All four of these articles have already appeared in the magazine, finishing with the Jeet Kune Do technical article in the December 2011 issue, which was a Bruce Lee special.
While there, he was asked if he would consider doing a DVD series on Jeet Kune Do for Black Belt Video. He agreed, and flew to Los Angeles again several months later to shoot the DVD series. Late in 2010, the DVD series "Jeet Kune Do for the Advanced Practitioner" was released just in time for Christmas, consisting of three detailed volumes. This was quite an accomplishment, as this meant that Sifu Davis was the first Jeet Kune Do Instructor ever asked to do a series on Jeet Kune Do for Black Belt!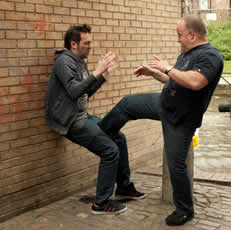 In May of 2011, Sifu Davis went over to England to demonstrate Jeet Kune Do live on stage at the Martial Arts Show Live, which was held at the N.E.C. in Birmingham, England. He also taught several seminars at this event, where he saw his old friend Joe Lewis. Sifu Davis was in England touring for three weeks, teaching a series of seminars and classes all over England. Sifu Carl Freeman, a certified Hardcore Jeet Kune Do Instructor based in Nottingham, sponsored the tour. For those interested, Sifu Davis will return to England in May of 2012 for a ten day seminar tour, starting off with demonstrations and seminars at the Martial Arts Show Live on May 12th-13th. Then he will return again later in 2012 for a seminar in Penzance, England, sponsored by Hardcore Jeet Kune Do Apprentice Instructor Robert Ley.
While in Nottingham an extensive photo shoot was done, totaling around 1,300 photos, featuring both indoor and outdoor settings. The photography was done by professional photographer Ed Jasion, who is also an Apprentice Instructor Level II in Hardcore Jeet Kune Do. These photos have already been featured in magazine articles, and will be used for various articles and books over the next few years. Many of them can be seen on this website!
Sifu Lamar M. Davis II is now recognized worldwide as the founder of Hardcore Jeet Kune Do, which is his total approach to teaching Bruce Lee's fighting methods. Hardcore Jeet Kune Do consists of the combined curriculums from the Seattle, Oakland and Los Angeles Jun Fan Gung Fu Institutes, as well as a healthy dose of the Wing Chun Gung Fu that forms the foundation structure for everything! If you are looking for the original art in its purest form, this is for you!
Today, Sifu Lamar M. Davis II Davis Is the Head Instructor of the Hardcore Jeet Kune Do Academy in Oneonta, Alabama, where he teaches group classes, monthly seminars and training camps four times a year. He is available for group instruction, private instruction, semi-private instruction, H. I. T. Sessions and worldwide seminars.