Quality Bruce Lee Publications
The Hardcore Jeet Kune Do Chinese Gung Fu Association is proud to promote these fine Bruce Lee publications created by David Tadman and Steve Kerridge, as well as a very unique photo book by Linda Palmer. The quality of these publications is amazing, and there is even more to come in the near future. You will be ordering directly from Valley Martial Arts, the official distributor for these items. I have ordered many times from Valley Martial Arts in North Hollywood, California and they are committed to giving their customers excellent service. Watch for future listings of more fine Bruce Lee products!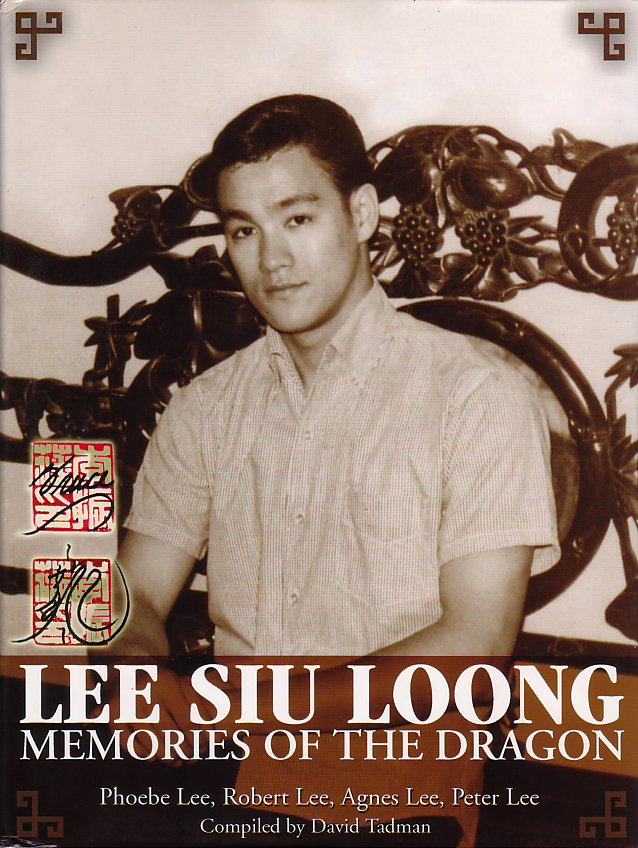 Lee Siu Loong – Memories of The Dragon
Compiled by David Tadman
This is truly a one of a kind book. Memories of the Dragon offers a look into the life of Bruce Lee as presented by his family. Phoebe, Robert, Agnes, and Peter Lee guide the reader through a beautifully illustrated book. This is a must-have for any fan or follower of Bruce Lee.
Includes Certificate of Authenticity autographed by Bruce Lee's brother and sister, Robert Lee and Phoebe Lee.
Except from the book: "In 1959, Bruce left Hong Kong as a teenager who was full of angst and did not know what his future would become. The day he left for the United States was a very sad day for our family. My parents were most worries because they knew he had minimal money to take with him and they knew that Bruce really had no future plans in what he was going to do or was going to accomplish in America..."
121 Pages
$89.95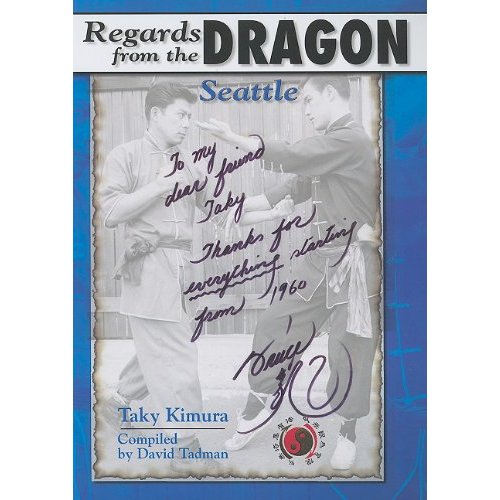 Regards from The Dragon: Seattle
It was in Seattle, Washington, where Bruce Lee met a man by the name of Taky Kimura. Taky would not only become one of Bruce's top instructors in the Jun Fan method of Martial Arts, but he would also become Bruce's closest friend and confidant.
In this special book, you get a rare insight into the close friendship Bruce and Taky shared through their letters. These letters touched on everything from Martial Arts technique and philosophy, to Bruce's accomplishments within the world of television and film industry.
Above all, the letters in this book express the care and appreciation for a man Bruce Lee called his "best friend." Throughout the years, Taky Kimura would take these letters out, read them and reflect on the special moments he shared with the "Little Dragon," letters that until now, have never been shown to the public.
330 pages
$49.95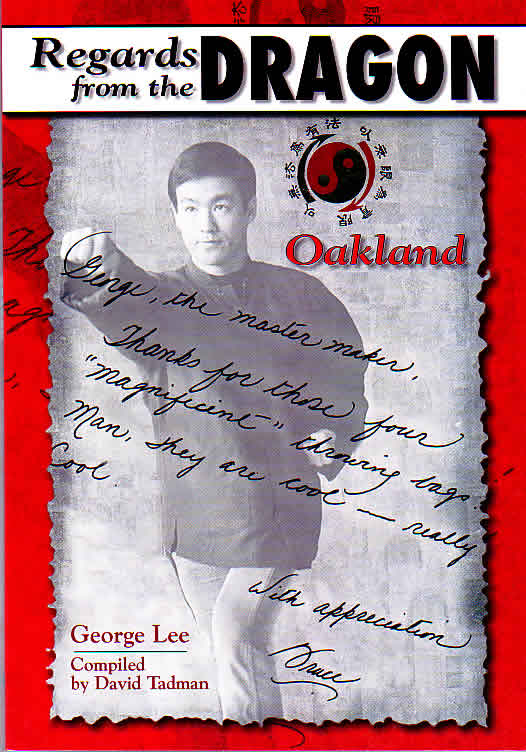 Regards From the Dragon - Oakland
By George Lee
Compiled by David Tadman
Beautifully done book. Every page is in full color and the book is full of pictures.
Throughout their friendship, Bruce Lee wrote George Lee letters on a regular basis. Those letters touched on everything from Martial Arts philosophy and the development of Jeet Kune Do to George's creation of workout equipment for Bruce's private and personal training.
These letters express friendship and appreciation for a man Bruce Lee called "my friend." Periodically, George would take the letters out of a box, read them, and then reflect on the moments he and Bruce shared as close friends.
We've heard of Bruce Lee the man and legend. Until now, however, we did not know Bruce Lee, the friend. The letters and photographs in this book document the close friendship that George Lee and Bruce Lee had. This book is for everyone who wants to know more about Bruce Lee behind the scenes and the friendship only a few knew about.
Size: 7 x 10, 111 pages
$29.95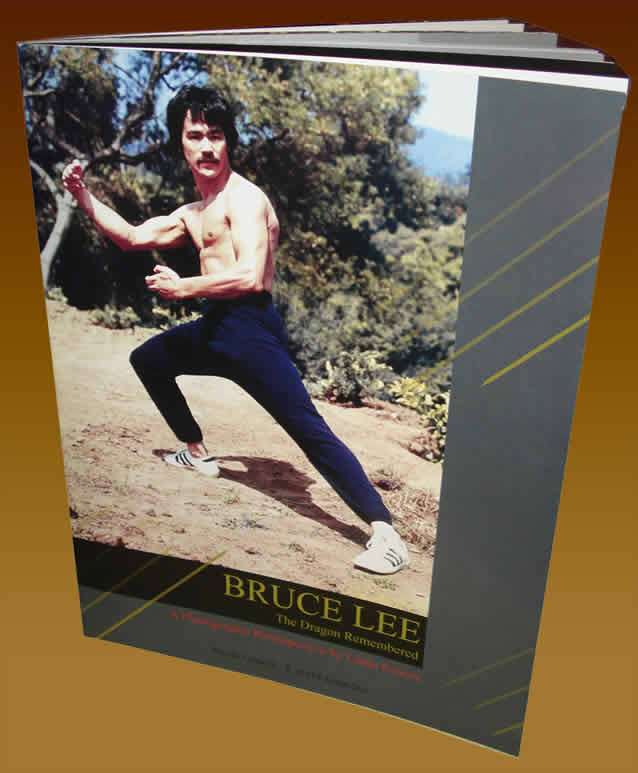 BRUCE LEE - The Dragon Remembered; A Photographic Retrospective by Linda Palmer
The official release date of this book was November 27, 2010 in honor of Bruce Lee's 70th Anniversary of his birthday. Proceeds will benefit the Bruce Lee Foundation. We are humbled and consider it a privilege to work with the Bruce Lee Foundation on this project.
Reserve your copy today. A wonderful gift for yourself or your favorite Bruce Lee fan.
"When Linda Palmer met Bruce Lee in late 1968, early 1969, she was married to Ted Ashley, the head of Warner Brothers. Linda and Ted's close friend, writer and producer Stirling Silliphant, brought Bruce Lee to a dinner party at their house."
"Ted really liked Bruce, but he had so much to do at the studio that he didn't have time for friendships outside of his work. But, Bruce and Linda became friends and soon after that she became good friends with Bruce's wife Linda and had the pleasure of meeting their children Brandon and Shannon, spending a lot of time with them."
"Throughout their friendship, Linda would embark on what now are considered historical photo shoots that at the time helped Bruce promote himself in the martial arts world and in the world of show business. But as Linda will admit, her favorite photo sessions were the ones that showed the love of the family unit."
"Whether at her home or Bruce's, Linda would take out her camera and begin to shoot. At that time, no one knew these photographs would record a point in history that showed who Bruce Lee was; not only a martial arts master, or the famous actor to be, but most importantly, it showed the strength, vulnerability, humility of a self made man. Bruce did not trust everyone, especially where he and his family were concerned, but he trusted Linda completely."
"Linda has decided to share with the old and new Bruce Lee fans the pictures she took of her close friend. For Linda Palmer, this is her way of thanking the friends, family and fans, that have kept Bruce Lee's flame alive all these years... This is her tribute to Lee Siu Loong..."
Softcover 8.5" x 11" - Full color, 44 pages, over 100 full color photographs from Linda Palmer's personal files.
$49.95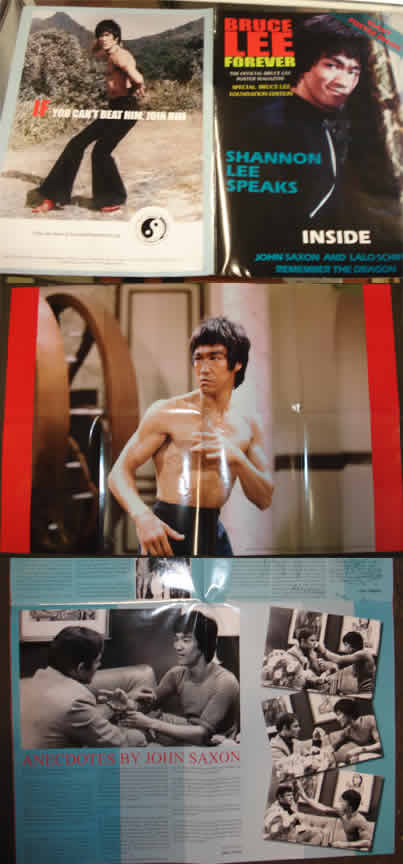 BRUCE LEE FOREVER POSTER MAGAZINE
Reminiscent of the 1960's poster magazines, "Bruce Lee Forever" - The official Bruce Lee poster magazine. Special Bruce Lee Foundation edition.
Featuring never before published pictures of Bruce Lee and articles by John Saxon and Lalo Schifrin.
Folds out into a full sized 33" by 23" poster. Only 1,000 of these have been printed.
Very limited availability.
$19.95

TAKY KIMURA BRUCE LEE FOREVER POSTER MAGAZINE
Reminiscent of the 1960's poster magazines, "Bruce Lee Forever" - The official Bruce Lee poster magazine. Special Bruce Lee Foundation edition.
Featuring never before published pictures of Bruce Lee and a tribute to the one and only Taky Kimura.
This special issue provides and exclusive interview and insight into the man closest to the Little Dragon - Taky Kimura. This humble, gentle man had endured many hardships during his time growing up in the US internment camps during the second World War. Taky's first meeting with Bruce Lee shortly after the Little Dragon's arrival in the United States in 1959 changed and shaped his life forever.
Folds out into a full sized 33" by 23" poster. Only 1,000 of these have been printed.
Published October 2010
Very limited availability
$19.95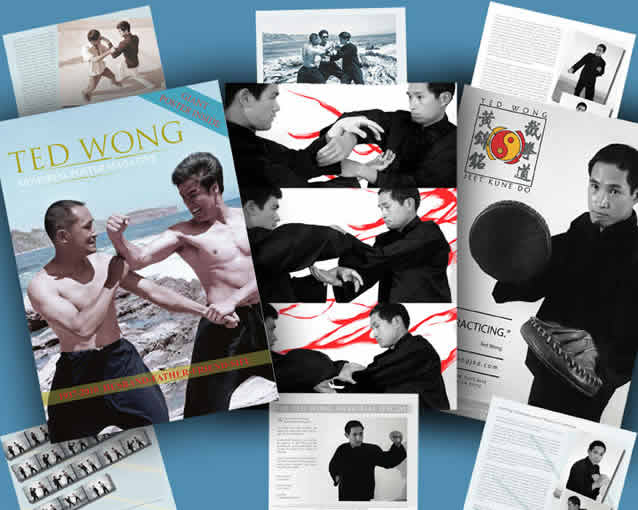 THE TED WONG MEMORIAL SPECIAL POSTER MAGAZINE
Ted Wong was a man of whom the martial art world held with great respect for his contributions. In this poster magazine, we celebrate the memory of Ted Wong and the friendship he shared with Bruce Lee through the journey they called Jeet Kune Do. So with great pride and in memory of Ted Wong we present this special memorial poster magazine that honors both Sifu and student.
With the passing of Ted Wong, we treasure all that he left behind to us. In this special memorial issue are excerpts from a series of interviews that took place over a week in Santa Monica during the spring of 2009. Through the interviews, we discovered not only some valuable insights on Bruce Lee and Jeet Kune Do, but some deep reflection on what made Ted Wong the person he was.
Editors: David Tadman and Steve Kerridge
Contributing Sonsor: Ken Hao
Folds out into a full sized 33" by 23" poster.
$19.95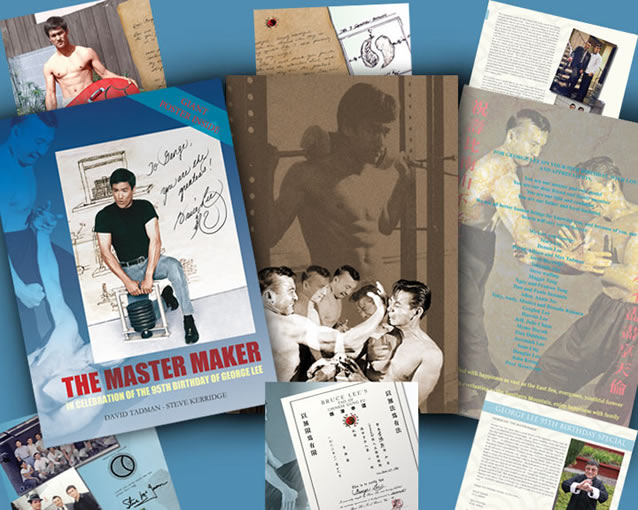 GEORGE LEE 95TH BIRTHDAY SPECIAL POSTER MAGAZINE
George Lee: "The Master Maker"
Beautifully done pictures. Reminiscent of the 1970's Poster Magazines. Inside are articles and pictures about George Lee and his intimate friendship with Bruce Lee. As well as George relating how he came to know and develop his friendship with Bruce, personal notes from Bruce to George, pictures of articles made by George for Bruce, note from Steve McQueen, and James Coburn. Magazine then folds out to a full size 24" x 34" poster of George Lee and Allen Joe working out.
***************************
George Lee was more than a good friend of the legendary Bruce Lee; he was a revolutionist in his own right. He spent countless hours that turned into days and sometimes months, creating Bruce's workout equipment. For George's hard work, dedication and expertise, Bruce Lee called him "The Master Maker." In addition to this accolade, George should also be known as the "The Master of Friendship," because his reliability, dependability and friendship were unparalleled.
To know George, is to understand that we are in the presence of someone very special, a loving friend, father and husband. George has always put a high value on friendship and has opened his heart to many of us here in celebration. His dedication to us all, mirrors his dedication to his close friend and Sifu, Bruce Lee. Even at 95 years of age, George is always there for all who know him. His vigor, sharpness, and zest for life at the age of 95 are a lesson to us all. George has taught us all to be loving and open to the ones around us and be accepting of the changes in life, be it good or bad. But, most important, he has taught us staying young in heart and mind is all about letting your universe be open to you and sharing with others. Thus, to George Lee, a dedicated friend and a man who always truthfully expresses himself, this gift is with love from all of us to you.
Happy 95th Birthday George, we love you ...
David Tadman
(U.S. Editor)
Steve Kerridge
(U.K. Editor)
$24.95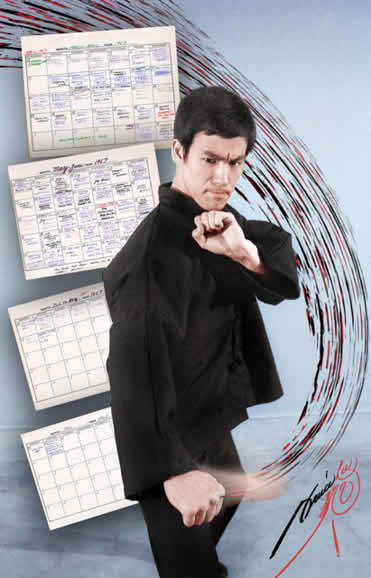 BRUCE LEE WORKOUT "CALENDAR" POSTER
Beautifully done, full size 24" x 36" poster of Bruce Lee, with a never before released pose.
Printed in high resolution so you can read, and follow if you wish, Bruce Lee's personal workout routine from March of 1967 through to August of 1967.
The notes are in his personal handwriting, and include notations for other things like trips, etc.
A great addition for your wall and your collection.
Printed on very high quality, collector grade, 100 pound gloss paper.
This poster is not folded. It comes rolled and shipped in a poster tube and shipping will vary by location.
Shipping to just about anywhere in the USA is $8.95, and shipping internationally (with insurance) is coming out to $29.95
Note: If you wish to waive the insurance, and want the cheapest shipping (at your risk) just make a note when you make your order and we will adjust it before your card is charged.
$19.95