HARDCORE JEET KUNE DO CHINESE GUNG FU ASSOCIATION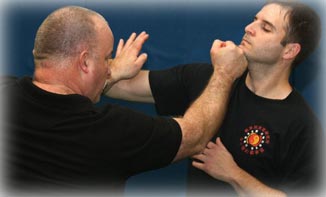 Welcome to the official website of the Hardcore Jeet Kune Do Chinese Gung Fu Association. This website is predominantly for members of this organization, but is open to anyone. There is a world of authentic information here to educate those interested in Jeet Kune Do. We do hope that you will visit here often!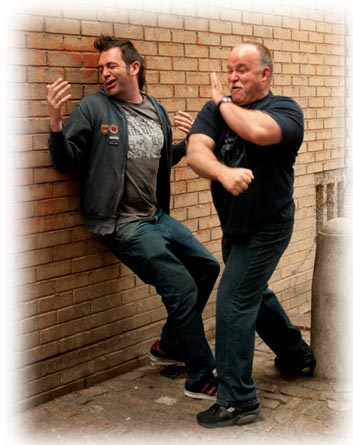 The Hardcore Jeet Kune Do Chinese Gung Fu Association is an organization founded by Second Generation Jeet Kune Do Senior Instructor, Sifu Lamar M. Davis II, dedicated to the preservation, promotion and perpetuation of Bruce Lee's original teaching, training and fighting methods. Our goal is to develop competent Instructors that are capable of passing on the art to future generations.
We are not a "JKD concepts" approach, nor do we advocate that approach to training in Jeet Kune Do. We also do not promote the use of martial art for sport, therefore we have no use for MMA type competition, or any competition … period!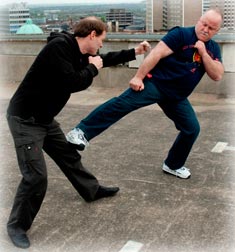 DO NOT contact us if this is your primary interest! We are all about REAL WORLD self defense, or what is commonly referred to nowadays as "reality based" self defense. In other words, how can you best apply your skills in today's violent streets to save your life or the life of a loved one? Everything that we do is looked at from an extremely practical standpoint! In other words simple, direct and non-classical. It just doesn't get any better than this!
We are currently looking for those who wish to join us in our efforts, and work towards becoming Instructors of this incredibly effective method of self defense. We are looking for representatives in every state in the United States as well as every major country in the world. The first step is to join the organization. From there, your training will begin! Before you take this step, however, please read over our rules and regulations to be sure you are willing to become a part of our group. If you have any questions, please feel free to call the office or send an email to Sifu Lamar M. Davis II at Sifu@HardcoreJKD.com .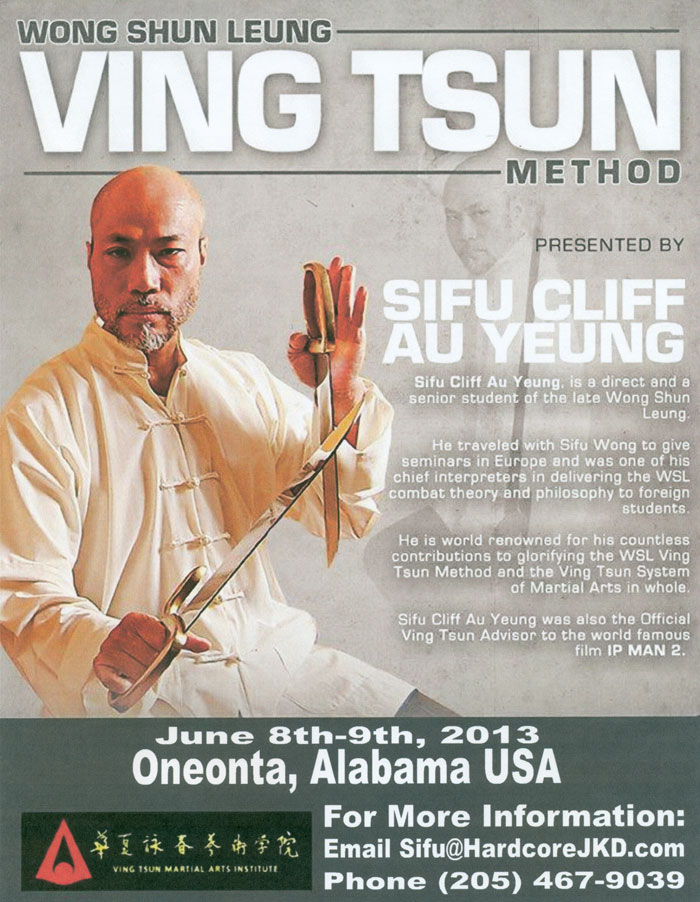 During the month of May you can still get a DISCOUNTED PRICE (
$175.00
) on the WONG SHUN LEUNG WING CHUN SEMINAR with SIFU CLIFF AU YEUNG! This may be your only chance to train with a Wing Chun master, and direct student of the late Wong Shun Leung, the man primarily responsible for teaching Bruce Lee! Sifu Cliff was the Wing Chun technical advisor for the movie IP MAN 2, starring Donnie Yen. Sifu Cliff is from Hong Kong, and I am very proud to have been asked to be the host for his FIRST SEMINAR EVER in the United States! Now YOU have the opportunity to actually be a part of this historic event!
On June 1st the price goes to the full seminar fee of
$200.00
! To get it at
$175.00
, get those payments in through Paypal to the Paypal payment ID Sifu@HardcoreJKD.com . Also, we will soon reach our limit on attendance, so get those payments in FAST to reserve your training slot (only about ten spaces left as of 5/4/13)! The plane tickets have been purchased and this event is a definite go, so whatever you do, DON'T MISS THIS ONE!!!
MORE INFO:
The event will be held at my kwoon, the Hardcore Jeet Kune Do Academy, located at 205 2nd Avenue East (aka Highway 75) in Oneonta, Alabama. The entrance to the kwoon is a red door in the concrete walkway between my building and the next. The door will be unlocked thirty minutes before the start of the event the first day, and fifteen minutes before the start of the event the second day. Please DO NOT arrive too early! Free weekend parking is available on the street, in the corner parking lot and the corner lot across the street.
The Saturday session (June 8th) will start at 2:00 P.M. and go until 6:00 P.M.
The Sunday session (June 9th) will start at 9:00 A.M. and go until 1:00 P.M.
Dress in comfortable clothing (gung fu pants and t-shirt, etc.) and wear good quality athletic shoes with non-marking soles.
NOTICE: No drinks allowed on the training floor. Bottled water will be sold during breaks for 50 cents per bottle.