Hardcore Jeet Kune Do Academy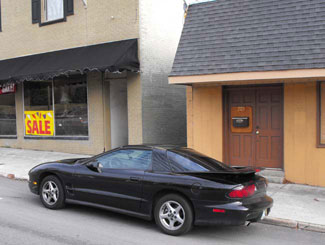 The Hardcore Jeet Kune Do Academy is one of the few places in the world where you can go to train in the authentic art and science of Jeet Kune Do. The Head Instructor of the Academy is Sifu Lamar M. Davis II, certified Senior Instructor of Jeet Kune Do, and Founder of the Hardcore Jeet Kune Do Chinese Gung Fu Association. Sifu Lamar M. Davis II has trained with over two dozen of Bruce Lee's original students, and is certified as a Full Instructor by five of them. He is certified by original students from the Seattle, Oakland and Los Angeles Chinatown phases of Bruce Lee's curriculum. The Hardcore Jeet Kune Do curriculum consists of training and fighting methods from all three of these phases, as well as the Wing Chun Gung Fu base.
The Hardcore Jeet Kune Do Acdemy is operated exclusively as a private club. Classes are not for children, and you must be at least sixteen years of age to participate in the training at the Academy. Exceptions have been made for adults willing to also join and be their child's training partner at all times, but that is the only way to be a member if under sixteen. Classes are suited for women as well as men, and Hardcore Jeet Kune Do has an excellent Women's Self Defense Program. Before gaining access, you must meet with Sifu Lamar M. Davis II and discuss your possibilities for membership. Once accepted as a member, you may start attending classes at the Academy.
The atmosphere at the Academy is an all Jeet Kune Do atmosphere. All decor and equipment is strategically placed to allow for maximum use of the training space. When you step into the Academy, you leave the outside world behind and enter a world where everything is geared towards authentic training in realistic self defense techniques, what we often refer to as REAL WORLD self defense!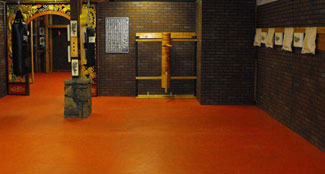 The Academy is equipped with mook jongs, focus gloves, kicking shields, heavy bags, speed bags, double end bags and other equipment designed especially for Hardcore Jeet Kune Do training. All members must purchase their own boxing gloves, headgear and shin guards. This is primarily for hygienic purposes, as you do not want to share such personal equipment. You will need to bring this equipment to every training session that you attend at the Academy. A specific type of approved equipment is required, and these items may be purchased directly from Sifu Davis at a discount. You will be given an order form once approved for membership.
For training at the Academy, you will need good quality athletic shoes (cross trainers, running shoes, or wrestling shoes are preferred) with non-marking soles. It is preferred that you use your selected shoes ONLY for training at the Academy, as this helps keep the floors clean. We do train with shoes on, as barefoot training is (1) primitive and (2) not at all practical! You will be required to purchase a uniform, which consists of black gung fu pants and a black t-shirt with the Hardcore Jeet Kune Do logo on them. These are to be ordered/purchased directly from Sifu Davis. You will be allowed some time to purchase equipment and clothing, but you will be expected to do so within the first four to six weeks of being accepted as a member of the Academy, so please be prepared for this. Until you acquire your actual uniform, you will need to wear sweatpants or track pants (no shorts allowed) and a t-shirt or sweatshirt (no tank tops allowed).
There is a specific set of rules and regulations in effect, and these rules and regulations are to be read, understood and followed by all members. Failure to do so could result in the termination of your membership. For a listing of these rules and regulations, please visit the menu heading, Rules & Regulations .
We look forward to having you as a member of the Hardcore Jeet Kune Do Academy. Please contact Sifu Lamar M. Davis II to discuss the initial meeting to get your application process started. Please send an email titled, Requesting Membership to Sifu@HardcoreJKD.com . Sifu Davis will contact you as soon as possible after receiving your request. Please keep in mind that he is very busy, and often traveling or possibly even out of the country, so it may take a few days for him to get back to you. Please be patient!